Doctors and Staff
Meet the experienced and friendly dentists and staff who make Levittown Smile Design the leading provider of oral hygiene and personalized dental services in Levittown.
---
Dr. Jeffrey Schwartz, D.D.S., PC
Dr. Schwartz has been treating the Levittown community since 1982. He was raised in Merrick, NY and attended Adelphi University where he received his B.S. in 1977. After his graduation from Emory University School of Dentistry in 1982, he opened his private practice in 1985. The office relocated to its new state-of-the-art facility in June of 2006.
His practice has developed great relationships with their patients, who they now call friends. The staff is excited to be treating the children, as well as grandchildren, of the earliest patients of the practice. Dr. Schwartz's team will give you an ongoing commitment to ideal dental health in a caring, friendly atmosphere.
Dr. Schwartz resides in Dix Hills, NY with his lovely wife Laurie and has two grown sons that both live in Manhattan. He is an avid golfer and enjoys traveling.
---
Dr. Lorraine Sirgany, D.M.D.
Dr. Sirgany completed her Bachelors in Science at Fairleigh Dickinson University where she received her Dental Hygiene Degree. She received her D.M.D. at U.M.D.N.J.- Rutgers Dental School. Upon graduating, she relocated to Long Island where she has practiced as a general dentist.
For the past 16 years she has been associated with Dr. Schwartz in his Levittown office. She strives to deliver quality dentistry with compassion in a relaxing environment, by utilizing the most up to date technology, procedures, and materials. She has taken advance dental training in the use of CadCam Technology, Invisalign "clear braces" and in Six-Month-Smile adult cosmetic braces.
Dr. Sirgany is dedicated to excellence in dentistry, and creating a relaxing, attitude-changing experience for her patients. She knows the importance of creating close bonds with patients in order to further enhance their dental experience.
Dr. Sirgany is a member of the American Dental Association, New York State Dental Association and Nassau County Dental Society. She currently lives in Levittown and enjoys outdoor activities such as kayaking and gardening. She is an active member in her church. She has done missionary work in Haiti, and is planning future trips to deliver dental care to those in need.
---
Dr. Jesse Hofer, D.M.D.
A healthy smile often begins with healthy gums, and Dr. Jesse Hofer is passionate about improving patients' overall oral health by achieving this.
Dr. Hofer focuses on using proven and contemporary methods to achieve the best long-term outcome for his patients. He is a confident and caring Board-Eligible Periodontist who trains and practices with the best doctors in the country.
Dr. Hofer takes great pride in delivering the very best periodontal treatment, as well as the most advanced implant technology to all patients under his care. He is a gifted and deeply committed addition to Levittown Smile Design.
---
Dr. Kevin Geller D.D.S.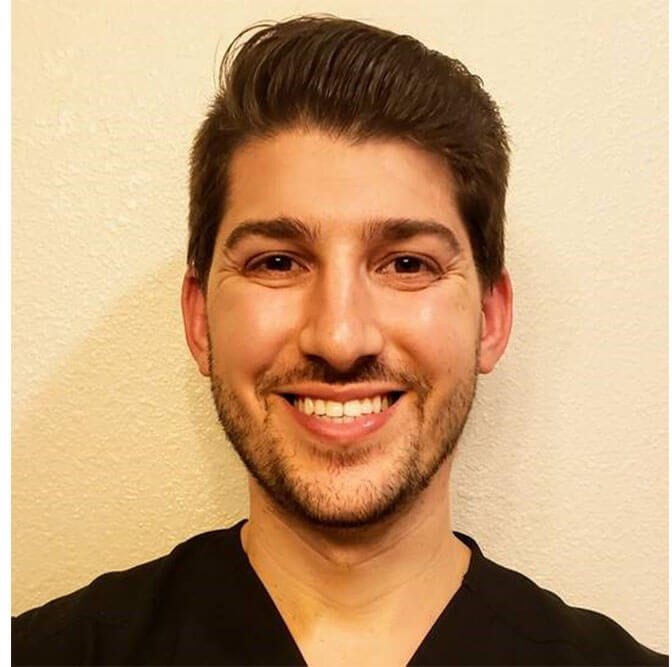 Dr. Kevin Geller provides the highest quality personalized care with exceptional results. Together you will work to address your individual needs with a customized dental plan to meet your goals and achieve an outstanding and confident smile. He performs a wide range of procedures including Lumineers, Invisalign trays, and dental implants.
Dr. Geller was born and raised in Cleveland, Ohio. He attended Yeshiva University Honors Program where he earned his BA in Biology with Magna cum Laude. He went on to achieve his Doctor of Dental Surgery from Columbia University College of Dental Medicine before completing further training in a General Practice Residency at the St. Joseph Mercy Oakland Hospital.
He will make sure that your experience is relaxed and comfortable. He'll sing along to every song on the radio and make jokes to put you at ease. He loves sports, new foods and learning about fun local activities to impress his wife and 2 boys.
---
Jill Joyce, RDH
Jill is a Board-Certified Register Dental Hygienist. She graduated from SUNY Farmingdale with an Associate Degree in Dental Hygiene in 1985 and has been practicing for 31 years. She has been working with Dr. Schwartz for 29 years.
Jill is also certified in local anesthesia and nitrous oxide from SUNY Farmingdale and is additionally certified in basic Life Support and CPR.
She enjoys her job because of the friendships that she has formed through the many years and takes pleasure in getting to know her patients. Making them feel comfortable about coming to our office has led to many referrals of family and friends!
Jill enjoys spending time off from work at her house upstate, with family and friends. She is married with one son, and has two black labs- Hailey and Sadie.
---
Leda Berlind, RDH
Leda has over 30 years experience in dentistry. Starting as a dental assistant in 1980, she then obtained her degree in Dental Hygiene from State University of Technology in Farmingdale in 1991. She received the John Oppie McCall Award for Clinical Excellence that same year.
Leda has her certification in local anesthesia and nitrous oxide administration, in order to give patients a comfortable and pleasant experience.
In her spare time, Leda is an avid martial artist, and exercise enthusiast. She also enjoys cooking and spending time with her boyfriend and cat.
Her priority is to educate the public about the importance of dental hygiene for overall health.
---
Elizabeth Ricci – Office Manager
Liz joined our team in October 2015. She graduated from North Shore University Dental Assisting Program in 1984. Her knowledge of both the front and back of the office make her an integral part of our team.
Liz has two boys Tyler and Nicholas that are her pride and joy. She enjoys traveling, reading, biking and the beach.
---
Laurie Schwartz – Insurance Coordinator/Receptionist
Laurie has been on staff for the past 29 years. She handles all the insurance but loves to work at the front desk where she gets to interact with all the patients.
Laurie and Dr. Schwartz have been married for 35 years and have two sons that live in Manhattan. She has been an integral part of growing the practice.
Outside of the office, Laurie loves spending time with her family and friends. Cooking, golf and traveling are some of her hobbies.
---
Tracey Perez
My name is Tracey Perez. I started off dental assisting, as an ambitious professional I became familiar with the front office and have gained years of experience. I completed the Medical Billing and Coding course with Sanford Brown, in September of 2016. Throughout my career as a student I proudly maintained an average GPA of 3.8. I enjoy being able to educate patients and offer them quality services.
I am the proud mother of a handsome boy and beautiful girl. I take pleasure in reading drawing and self educating in my spare time.
---
Ms. Lisa Fox – Dr. Schwartz Dental Assistant
Lisa is a certified Expanded-Duty Dental assistant. She has been a dental assistant for 30 years. She attended B.O.C.E.S. of Westbury NY (Class of 1986) and is a member of the American Dental Assistants Association. Lisa has been with the practice for 12 years.
Lisa loves jazz music and making patients laugh.
---
Colleen Sillifant – Dr. Sirgany's Dental Assistant
Colleen has been working at Dr. Schwartz' office for 14 years. Her goal is to make patients as comfortable and at ease as possible. As a person who was "afraid" of going to the dentist, she tries to use humor and laughter to relax the patients. She will hold your hand and allow you to squeeze as tight as possible, if that helps.
It gives her great pleasure to see patients leave the operatory with a smile, saying "Thank you, this was a stress-free appointment."
In her free time, Colleen loves relaxing at her camper upstate.
---
Lauren Powers
Lauren grew up in the Levittown Community. She has been working in the dental field for 10 years. Lauren Graduated from Nassau Community College with her A.A.S. degree in Medical Office Technology.
Outside of the office, Lauren enjoys spending time with family and friends. She also enjoys listening to music and working out.